No.373007
Former SHIMIZU family residence
Completed in 1925
OLD OWNER
Minami-cho Monzen-cho regeneration exchange office
HISTORY of Former SHIMIZU family residence
The building was built in 1925 as a former pilgrimage lodge and later became a residence. It is characterised as a dashigeta-zukuri (house with protruding longitudinal beams). Originally there was a doma (dirt floor) running from the entrance to the back (south) of the house, but the southern section was rebuilt in 1976 to have the present two gabled roofs. The building was vacant for a while, but after being reactivated by an IT company and used as a satellite office of the Tokushima Bunri University since 2016, it is now being used as "Minami-cho Monzen-machi Regeneration Exchange Office", an exchange facility for companies from different fields since 2020.
FEATURE

Feature of Former SHIMIZU family residence
KNOWLEDGE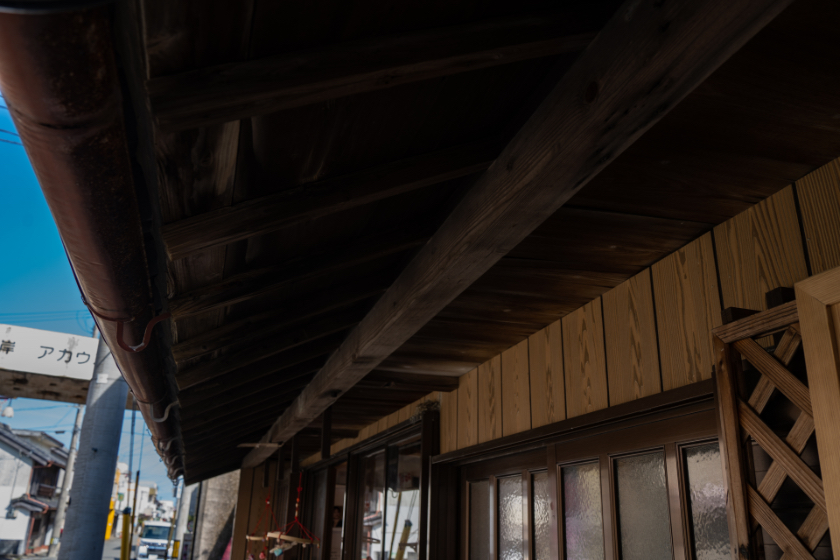 01FEATURE
Dashigeta-zukuri
A girder with its bottom chords and beams protruding from the exterior wall to the street is called "dashigeta". It is sometimes called "degeta". By passing rafters over the dashigeta-zukuri structure, the eaves can be elongated. This type of structure is often seen in machiya houses, and is called dashigeta-zukuri.
LET'S WALK
Area Map

Restroom

Evacuation site

Free Wi-Fi

Parking

Photo spot

Minami heritage

Onsen

Tourist Information