No.373004
Former WARAKUTEI store
Year of completion unknown
ARCHITECTURAL FEATURES
Dashigeta-zukuri(2nd floor only)
HISTORY of Former WARAKUTEI store
The date of completion is unknown, but the building has been used as a restaurant for a long time. It is a two-storey building with two one-storey water closets attached to it at the back, which is rather typical on Sakuramachi-dori, but it is characterised by its gable roof at the entrance. It is unclear whether this is an original feature or a later addition. The building is now used as a Thai massage parlour called "Anando".
FEATURE

Feature of Former WARAKUTEI store
KNOWLEDGE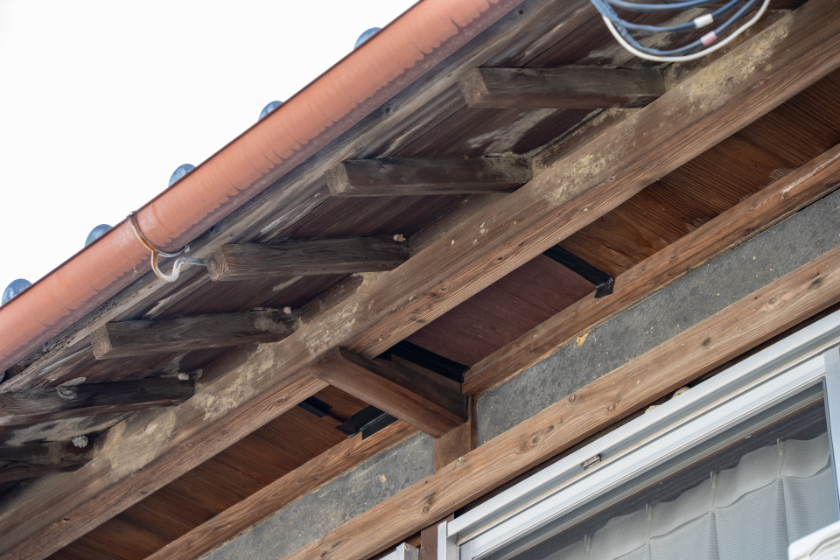 01FEATURE
Dashigeta-zukuri(2nd floor only)
A girder with its bottom chords and beams protruding from the exterior wall to the street is called "dashigeta". It is sometimes called "degeta". By passing rafters over the dashigeta-zukuri structure, the eaves can be elongated. This type of structure is often seen in machiya houses, and is called dashigeta-zukuri.
LET'S WALK
Area Map

Restroom

Evacuation site

Free Wi-Fi

Parking

Photo spot

Minami heritage

Onsen

Tourist Information